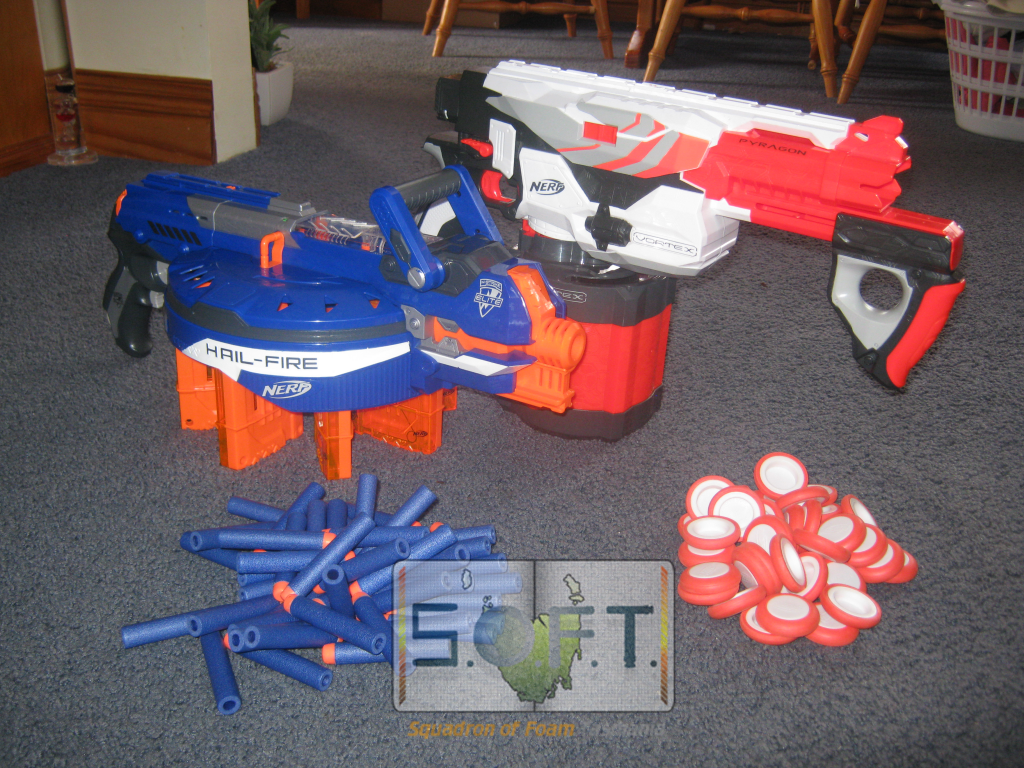 PLEASE READ THE FOLLOWING TO ENSURE A FAIR CONTEST PLEASE. :D
(Link) Okay fans, time for a NEW segment! Every fortnight, it is time to pitch two blasters up against each other in a battle of wits and might, to determine WHICH is the ultimate. This will continue for a few rounds (kinda like an elimination contest throughout the year) to determine which is the Squadron's FAVOURITE blaster, of ALL-TIME!!! Sounds exciting! I know it does!
This is how it works. Every fortnight, I'll post up a picture of two blasters, and YOU (yes, you) "have the power" to vote (by blog comment, FB comment or e-mail :P) for which blaster that YOU (one vote each please, please provide YOUR thoughts also) think is the best out of the two. By the end of mid-2013-ish, Alex and I will declare the Squaddie's favourite blaster, OF ALL TIME!!! Then I will build a special podium for the victor in the S.O.F.T. bunker, as a way of symbolizing eternal AWESOMENESS. After all, that's what we all strive towards.
Okay. First round! It's the two latest flagship blasters of modern times, the Elite Hail-Fire and Vortex Pyragon. Each has their strengths and weaknesses (take this into consideration) and vote for your favourite. Bear in mind, Alex and I will be voting as well, so that MIGHT tips the odds. :P We will tally the votes up by next Monday (18th Feb) and declare the winner, and announce our NEW competitors. :D Think hard, vote hard, NERF hard!!! :P